Thompson Engineering, Inc. is a family owned Civil Engineering and Land Surveying Company started by Lyle Thompson in 1973. Lyle is a native of Southeast Idaho, born and raised in Madison County. Lyle has worked for many public and private companies in the Northwest, including the State of Idaho and State of Utah Department of Highways.
Subdivision
Hailey Creek - Rigby, Idaho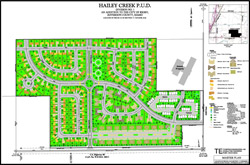 Hailey Creek Subdivision was designed with the goal of being a pedestrian and family friendly community. We integrated community enhancing features and unique design elements to make this one of the premier places to live in Southeast Idaho. Commercial Lots, Single Family Lots, and Town Home Lots are all part of the plan to offer a wider range of homes and opportunities than any other development in the area. Land has been purchased and plans are underway for a new Elementary School to be constructed within the development by the fall of 2009. Walk paths and five foot to ten foot wide sidewalks were designed to foster a neighborhood environment and encourage walking to school and the commercial areas. A new City Well will be constructed within the development and be tied into the City of Rigby water system offering safety and consistent water pressure for property owners. Waste Water from the school and development will be handled by the City of Rigby though the construction of over one mile of new sewer line.