Thompson Engineering, Inc. is a family owned Civil Engineering and Land Surveying Company started by Lyle Thompson in 1973. Lyle is a native of Southeast Idaho, born and raised in Madison County. Lyle has worked for many public and private companies in the Northwest, including the State of Idaho and State of Utah Department of Highways.
Survey
Private Party - Jefferson County, Idaho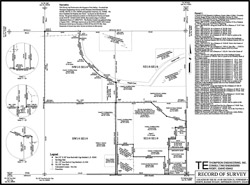 The Land Owner of this property had bought and sold multiple parcels of land throughout the years. The owner wanted one Legal Description to describe the land that he owned. He also requested that we combine the parcels he had purchased into one deed so he would receive one tax notice from the county. These types of Survey's prove to be very complicated because of multiple neighboring land owners, previous surveys by other Land Surveyors, calls for physical features within the deeds, and Junior/Senior title rights.