Thompson Engineering, Inc. is a family owned Civil Engineering and Land Surveying Company started by Lyle Thompson in 1973. Lyle is a native of Southeast Idaho, born and raised in Madison County. Lyle has worked for many public and private companies in the Northwest, including the State of Idaho and State of Utah Department of Highways.
Site Plan
Private Party - Teton County, Idaho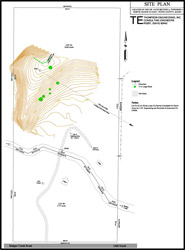 Site Plans are sometimes used to locate natural features and views before a building is designed. The intent of the owner was to identify the location of the highest point on the property in relationship to the property line. With this information, he was able to design a summer cabin with the best possible views of the Grand Tetons. He requested that we design the site plan with a winding road leading up to the cabin. The cabin would be located on the top of the hill, just outside a grove of Aspen trees, looking directly at the Tetons.