Thompson Engineering, Inc. is a family owned Civil Engineering and Land Surveying Company started by Lyle Thompson in 1973. Lyle is a native of Southeast Idaho, born and raised in Madison County. Lyle has worked for many public and private companies in the Northwest, including the State of Idaho and State of Utah Department of Highways.
ALTA/ASCM Land Title Survey
La Jolla Apartments - Rexburg, Idaho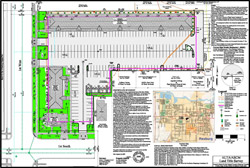 The La Jolla Apartments provides housing for students attending BYU-I in Rexburg, Idaho. This ALTA/ACSM Survey is an example of Thompson Engineering's attention to detail when asked to create a ALTA/ACSM Survey Map. Our clients used this survey to show the interested parties involved with this project what the final site would look like. Attorneys, Investors, and Title Companies, rely on this representation of the finished project to make informed decisions regarding Title Insurance, Utilities, Planning and Zoning requirements, and many other crucial details. Grass areas are green and parking areas are gray. Buildings are shown with a hatched shingle roof. Parking lines are shown and include Handicap Parking and Bike Racks. Utilities are shown using the APWA Uniform Color Code.